Its specific strengths in international finance and FinTech in particular make it poised to become the world-leading Longevity Financial Industry Hub.
By Stefan Hascoet, Partner at Longevity.Capital
In examining Switzerland's Longevity-progressive characteristics, we find that the country possesses the following unique strengths:
A lean political system that facilitates rapid implementation of integrated government programs

A strong research environment for geroscience

A strong research and business environment for digital health

An abundance of political will to address the demographic challenge

International financial prowess
And the following weaknesses:
The absence of any specific Longevity business community. For example It is a site of digital health summits, not Longevity summits

The absence of any industrial strategy for Longevity, like the UK's recognition of 'aging in society' as an industrial challenge

The heterogeneity of health data infrastructures has slowed the development of a nationwide personalised health ecosystem as compared to countries with more homogenous national health systems
Given Switzerland's small geographical size, and its reliance on international cooperation, its inevitable function will be as a small but important node. The most productive way forward for Switzerland, given its strengths, might be as follows:
Develop a Longevity progressive pension system

and insurance company ecosystem that accounts for both population aging (which threatens to destabilize the current business models of insurance companies and pension funds) and the potential for widespread healthspan extension

Develop a national strategy for intensively developing Longevity

, precision medicine and FinTech to a state so advanced that it propels Switzerland into a central role in the internationally competitive Longevity business ecosystem, where it can rise to become a global leader in the specific field of Longevity finance.
The Current State of Longevity Progressiveness in Switzerland
In a recent open-access analytical report, "Global Longevity Governance: 50 Countries Big Data Comparative Analysis of Longevity Progressiveness", Aging Analytics Agency performed fact-driven benchmarking of 50 nations using 200 parameters per country and 10,000 data points in total to rank their respective levels of Healthy Longevity and their current gaps between health-adjusted life expectancy and unadjusted life expectancy, and to provide tangible policy recommendations on how to optimize their National Healthy Longevity.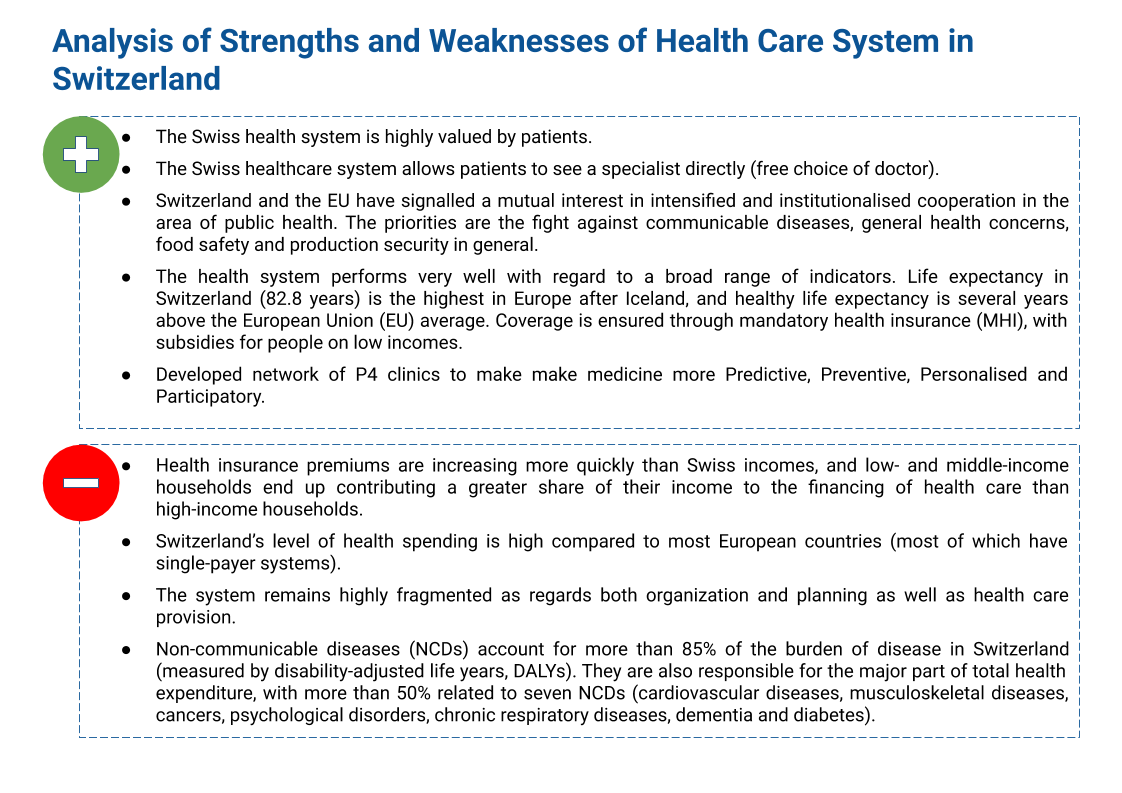 By identifying the factors with the greatest likelihood of enabling governments to develop integrated Longevity strategies and ecosystems to scale, and to reduce as much as possible their national gap between life expectancy and Healthy Longevity, the special analytical case study is able to offer tangible and practical recommendations tuned to the specifics of individual countries, providing the necessary set of tools to allow countries currently leading the international Healthy Longevity race to maintain and improve their current standing, and to allow countries currently lagging behind others to reduce their Healthy Life Expectancy gap and improve their comparative global standing to the mutual benefit of their citizens and their economy.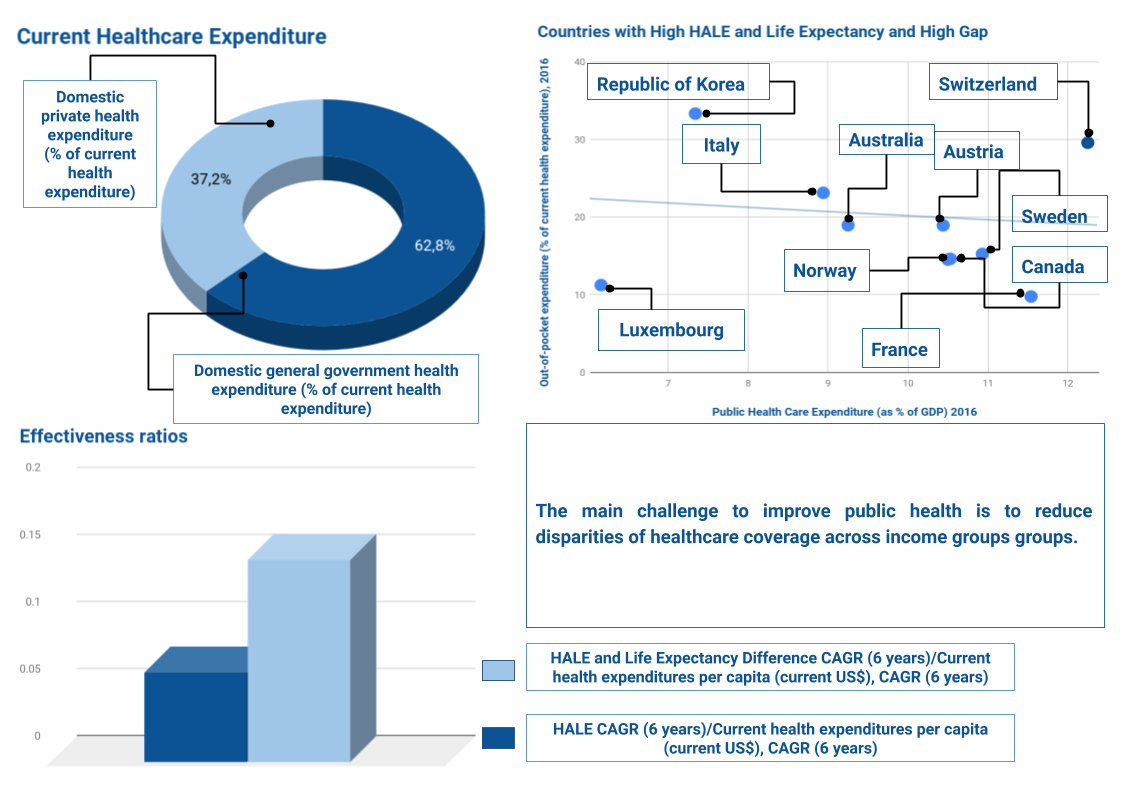 Perhaps not surprisingly, Switzerland was ranked well among the 50 countries analyzed, but was still surpassed by other nations, such as Singapore and Cyprus, indicating that Switzerland does indeed have a reputable international standing in terms of its levels of Healthy Longevity and Longevity-progressiveness, but also signalling that there is still room for improvement.
Some specific practical recommendations given by the special analytical case study on ways that Switzerland can work to maximize its National Healthy Longevity, minimize the gap between its Health-Adjusted Life Expectancy and unadjusted life expectancy, include:
Greater use of medical guidelines, investments in patient safety, and the reduction of waste

by improving coordination within and between different levels of care would further improve efficiency.

Follow trend towards greater transparency in healthcare

, extending the amount of healthcare data and rising consumer expectations of patients and the public.

Improving financial protection and fairness of financing

is becoming more important because rising premiums and OOP payments place an increasingly large financial burden on households with lower and middle incomes.

Enable patient-centered care with information technology systems.

Embracement of technology in health care will lead to personalization and improvement of the quality of medical care through close coordination between patients, caregivers, and professionals.

Strengthening disease prevention and health promotion with a focus on non-communicable diseases

remains an issue. Favourable living conditions in Switzerland, such as good housing conditions, a high-quality education system and low rates of unemployment contribute to healthy living conditions.

Utilising Artificial Intelligence in preventive medicine.

AI has great potential in terms of tackling the problem of bureaucracy and inefficient administration, relieving doctors from time-consuming administrative tasks and giving them more time to spend with their patients. By automating and improving processes, artificial intelligence can benefit both patients and medical staff. By optimising patient processing planning it can reduce the waiting time and length of stay for patients, and it can also help medical staff in their day-to-day work.

Promotion of healthy lifestyle and health education

, could potentially have a large impact on further improving the very good health status of the population, while avoiding the costs associated with the treatment of these diseases.



The Swiss Longevity Valley: How Switzerland Will Become a Global Longevity Financial MegaHub by 2025
Defining the Longevity Industry: The Biggest and Most Complex Industry In Human History
NZZ: How cows, forests, and film productions are added to a portfolio