The business model of the Zurich-based start-up GenTwo is based on the rapid and low-cost creation of an off-balance sheet receivables mutual fund.
l'Agefi's

Indices Janvier interview with Patrick Loepfe, chairman and founder. This interview with GENTWO Chairman Patrick Loepfe was conducted by financial magazine l'Agefi on 18 January 2019. Please click

here

to get to the official French version of

l'Agefi.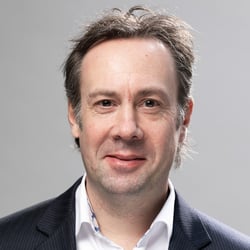 Patrick Loepfe,

Founder and Chairman

You can learn more about Patrick and the GENTWO team

here

.

What are the current overall factors driving demand for structured products? Who buys them and who sells them?
Individuality will be one of the strongest drivers of demand for structured products. We, at GENTWO, think it will have a lasting effect on the capital market landscape. Asset managers for example will be able to determine their investment strategies more and more openly in the future. Consequently, they will be able to market their own competencies in an increasingly targeted manner. However, in order to develop an outstanding market position, a genuine asset allocation will no longer be limited to the so-called "bankable assets". The new methodology will have advantages for all players in the financial market: asset managers, intermediaries, brokers as well as banks. Of course, there will always be someone who buys and sells financial products. However, in the future, the question will be less important who exactly buys and who sells. Financial players will develop and enrich their roles. The reason is that the investment business is on the verge of fundamental change for (conceptual) reason: Existing business models are in the process of "turning around" in a similar way to what happened in the music industry, when suddenly with Spotify for example it was no longer important which song was offered and paid for, but who listened to the song.

What is your conclusion for 2018?

After the price drop by end of last year, the turnover of conventional structured investment products had a negative effect on the issuers' volumes 2018. The market for securitization of non-bankable products, in contrast, was not really affected by the negative sentiment arisen from the global markets. What we do see, however, is that markets keep on transforming. This fact brings us back to the point of the need of a "better" asset allocation: The only way to make a difference will be an outstanding and sustainable performance which will include non-bankable assets. It will be the only way to achieve new growth, not only in terms of performance but also market size. But until recently, private equity, private debt, diamonds, art, vehicles, peer-to-peer lending, etc. could not be securitised in a simple investment product. This has changed now. More and more clients will therefore be interested in the securitization of so-called non-bankable assets.

Does 2019 present specific challenges for issuers of structured products, as well as for investors?
Intermediaries and also issuers will continue to face the same problem of recent years: the irreversible decline in their margins and natural barriers of growth. At the same time, investors will once again embark on a desperate search for new sources of return. Both, the buy and the sell side, will increasingly be forced to act more innovatively and creatively in the future, as existing solutions perform increasingly unsatisfactorily.

How does Switzerland differ from other financial markets in terms of structured products?

Compared to many other regions, the Swiss market has a long tradition of structured products. The intelligent solutions have long been regarded as established. Swiss financial intermediaries use them as a welcome source of return, especially in the low-interest environment. As a result, the know-how regarding the segment is generally well advanced in Switzerland. But the important question for us is not whether one market is more advanced than another. We welcome customers from all regions of the world. We make them innovators. Our vision is therefore to contribute to markets' developments and to make them more attractive for investors. We are able to do that because our set-up is not limited to one single region. With that said, we are always open for new projects in Switzerland, as well as in the USA or Asia for example. We have already realized projects in the US. In fact, our activities are focused on the Swiss market for simple time and resource-related reasons only. We will soon change that and enter new target markets.

What is GENTWO's business model and why is it relevant for investors and clients?

We are the creators of a new generation of financial products. We serve our clients with the ability to securitize not only bankable but also non-bankable assets with a Swiss ISIN and no issuer risk at a minimal price. GENTWO's set-up for so-called off-balance sheet investment products solves the problem of shrinking margins and growth barriers for many players in the financial market. And it opens a new dimension of performance potential just by giving access to a theoretically unlimited world of imaginable asset classes. Financial intermediaries, also small ones, can use our set-up to launch their own product innovation by adding either bankable standard assets or non-bankable (new) asset classes to their investment strategies. Banks and larger players profit from the same. However, by adding us as a further element to their existing business set-up, a real business innovation will now be possible for them. Further advantages like price (and an earlier break-even point), operational flexibility and being part of an evolving innovative community with exchange of relevant know-how can make fundamental difference in the context of the changing landscape.

Can this model become a standard for all issuers?

Definitely. Thanks to our set-up, financial distributors can now implement even more individual, strategic investment ideas for investors, develop new unique selling propositions and position themselves in the market in an exceptional way. With us, these players will be able to scale their strategies and projects which will allow them to access a new dimension of growth. Another aspect to consider is that most financial intermediaries are not even aware of the new opportunities that lie ahead in terms of performance and growth. Fees in the investment business, for example, will become history. The real reason for disruption is not the technology itself, but the way we use it. A modern industry is always purpose-oriented. The logical consequence of this are modular partner models that optimally bring out or even leverage the talent of each party. The future belongs to modularity and the additional value resulting from network effects; today, we call it "community approach".

Should traditional banks integrate services or partner with GENTWO in order to prevent their margins from eroding?

They should because it will be the only way to prevent margins from eroding in the future. The increasing interest in our activity shown by banks confirms that it is strong need. The reason is that the pressure on financial intermediaries and the sector itself is increasing so much. Today, we talk about an irreversible fact that traditional banks are progressively confronted with, too. Well, it is true that talent and experience of banks are still rewarded. Also, trust in the banking system is still in place. The only element missing so far has been the tool which must now be used: the securitization of something which was only possible by large players because it was complicated. Securitization was generally not easy, only possible with huge sizes and the creation of the set-up took long. GENTWO itself is not an issuer. This is a misunderstanding we are frequently confronted with. As a so-called enabler, we "just" offer easy access to a securitization set-up which we've built. The tool can be implemented very easily within an existing business model of a traditional bank as well. As a result, we will be able to turn all market players into strong innovators. In this sense, we also see ourselves as a business innovator that banks, asset managers and brokers just use as their securitization engine.

The translation into English was done by GENTWO for publication on the GENTWO Blog with the permission of

l'Agefi.