A year ago, equity markets started to slump and lost roughly 9% last December. Lacking company earnings, geopolitics could impact markets more significantly. Clarus Capital does not expect a repetition.
The global economy entered a synchronous phase of weaker growth this year – with the US holding best. The weakness will continue next year, which is why analysts have lowered their growth forecasts for the global economy in 2020. However, a stabilization of the global economy seems much more likely than a recession. This is also our base scenario, at least for the first half of next year. The consumers are still supporting the economy and expecting stable income and low unemployment. The central banks have become more expansive again compared with 2018, and global financing conditions have improved considerably.
After three interest rate cuts in a row, the FED sees itself well positioned and no change in monetary policy is expected without a significant adjustment to its outlook. The key interest rate will therefore remain at current level for the quarters to come. Lose monetary policy as a medicine is however increasingly being called into question and fiscal policy stimuli and state investments are gaining acceptance. Fiscal stimuli will be enough to support economic stabilization, but too little overall to stimulate the economy or trigger interest rate normalization. From that perspective we remain cautiously.
In the Eurozone the ECB's forward guidance suggests extremely accommodative policy will remain in place until underlying inflation rises significantly and sustainably. The orders in the battered industry have recently risen slightly again, which gives reason to hope for an imminent turnaround. Only for Germany the outlook remains gloomy.
In fixed income markets, the IG spreads have tightened slightly further and we expect flows to provide enough support to keep them at their current levels in the US. In global HY we expect limited positive returns, while US HY spreads have compressed to levels that do not offer enough compensation for risk in our view. Similar for Government bonds, where its valuations remain expensive with limited potential returns. As long as the tide of negative government yielding bonds continue to rise, we remain neutral. However, we like low IG corporate bonds from mature economies and EM and higher quality US bonds.
Late in the business cycle, valuations for many equity indices remain above long-term averages, but stocks still look attractive relative to other asset classes. Risks are still in stalled trade talks which could lead businesses to reduce investment in capex and hiring. In anticipation of fiscal support stocks often outperform late in the business cycle, i.e. cyclical companies levered to GDP. Hence, equities still provide room for potential upside which is in line with our neutral position.
The USD is likely to outperform the EUR as lingering uncertainty on trade will probably benefit the Greenback in the very near term. Gold has been pressured by hopes of a US-China truce and a more data-dependent FED, which lifted UST yields. USD 1450 per oz. remains a good buying opportunity. The OPEC annual meeting this week in Vienna will likely see longer, but not deeper, production cuts supporting oil prices around current levels.
Special topic: Black friday
Closer look at the most popular u.s. holidays
The history of Black Friday is closely related to the history of the development of retail and personal consumption in the modern United States, which makes up a large part of the economy compared to other developed countries. The share of population consumption has grown significantly compared to 1990 and 2000 in the total volume of economic production, and this has led shopping to become 24 hours.
The total number of shoppers over the five days from Thanksgiving to Cyber Monday was 165 million in 2018, 9 million fewer than in 2017, according to the National Retail Federation (NRF). The average shopper spent USD 313 - down from last year's USD 335. Still, online sales were strong. Adobe Analytics estimates that in 2018 the five-day stretch from Thanksgiving through Monday will account for almost one-fifth of all online holiday revenue. The year 2015 was remembered for being the first when the number of online shoppers exceeded the number of shoppers in the store. Many stores, hoping to attract customers to malls, were forced to open for Thanksgiving. Other additional shopping holidays are worsening the situation. For example, Amazon Prime Day, held for the first time in 2015, brought over USD 4bn on July 16.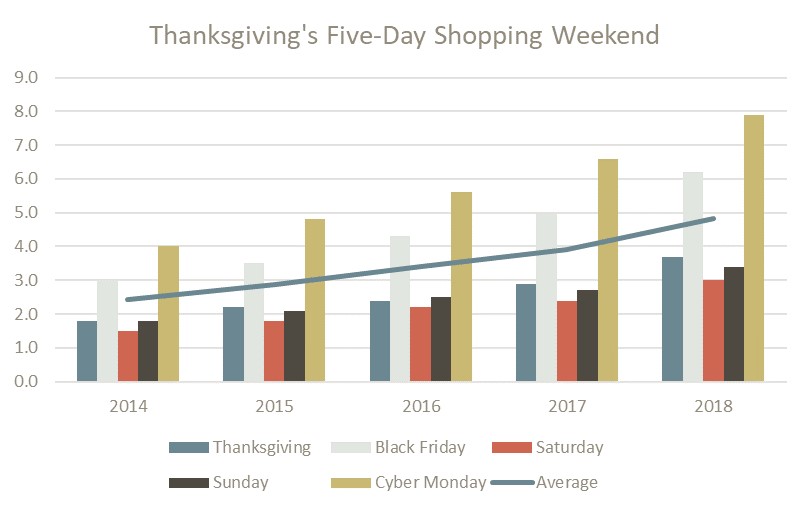 But still, what is Black Friday, another marketing idea, or a real economic indicator? This Friday is so solidly entrenched in the hearts of people that now it affects, such as the economy, retail and consumer spending as well as stock markets. In many countries, this day is positioned as an opportunity to save money through a wide range of products, from phones to washing machines. Historically, at every Black Friday bar, retail sales are higher than at any other date.
Regarding the impact of Black Friday on the country's economy, there are ongoing disputes. Many people believe that such a positive effect takes place and argue in favor of the Keynesian impact of spending, in which economic activity is stimulated by the fact that more money is invested in the country's turnover and thereby supports the economy. Although, on the other hand, people claim that the impact of this event is only observed short-term. Many retailers observed lower profits and possible reduction in workforce. The economic effect of this may include a decrease in tax revenues and an increase in the burden of welfare - factors leading to a net negative economic effect (Lobel and Writer, 2019).
Although Thanksgiving and Black Friday are still the busiest shopping days, RetailNext Inc. noticed a decrease in this trend after they have analyzed the video in stores to count customers. In 2018, it fell by 9 percent compared to 2017, and the number of people shopping in 2017 compared to 2016 was 4 percent lower. This is explained by the fact that more and more people prefer to go online, as stores posted their best deals on their sites. According to Adobe Systems, online sales from Wednesday through Black Friday were not only 26.4 percent higher than in 2017, but also in 2017, online sales grew 18 percent. According to the NRF, sales should keep increasing. They also do not believe that the trade war will reduce sales because retailers have stockpiled. Otherwise, for most consumer goods, tariffs will increase, imported from China. Mastercard SpendingPulse reports showed that total sales, excluding cars, grew by 5.1 percent from November 1 to December 24 in 2018 compared to the previous one, as for online stores, the growth was 19.1 percent for this period. In total, consumers spent about USD 850bn. On average, a customer expects to spend USD 1,007.24 each, of which they will spend USD 637.67 on gifts and 215.04 on food, decorations, flowers, and greeting cards (Amadeo, 2019).
Even though the discounts last only a couple of days, they certainly have consequences for the economy, and sales grow dramatically not only in stores but also on the internet. Many people would argue that the effect is not long-term, but rather short-term. However, investors in the stock markets have to remember that sales increase does not always lead to the profit of the company. Some companies may even underperform due to prolonged discounts. Unfortunately, Black Friday still remains an under-researched topic; there are a lot of questions for which there are no good enough investigations or analyses. It seems that it is challenging to calculate the effect of the Black Friday on the economy and the market as a whole in the country.
Note: This report is published by Clarus Capital Group AG
Roger Ganz
Head Asset Management, Clarus Capital Group AG
Dejan Ristic
Partner, Clarus Capital Group AG
Disclaimer
This content has been prepared by Clarus Capital Group AG ("Clarus Capital"). This document and the information contained herein are provided solely for information and marketing purposes. It is not to be regarded as investment research, sales prospectus, an offer or a solicitation of an offer to enter in any investment activity or contractual relation. Please note that Clarus Capital retains the right to change the range of services, the products and the prices at any time without notice and that all information and opinions contained herein are subject to change.
This document is not a complete statement of the markets and developments referred to herein. Past performance and forecasts are not a reliable indicator of future performance. Investment decisions should always be taken in a portfolio context and make allowance for your personal situation and consequent risk appetite and risk tolerance. This document and the products and services described herein are generic in nature and do not consider specific investment objectives, financial situation or particular needs of any specific recipient. Investors should note that security values may fluctuate, and that each security's price or value may rise or fall. Accordingly, investors may receive back less than originally invested. Individual client accounts may vary. Investing in any security involves certain risks called non-diversifiable risk. These risks may include market risk, interest-rate risk, inflation risk, and event risk. These risks are in addition to any specific, or diversifiable, risks associated with particular investment styles or strategies.
Clarus Capital does not provide legal or tax advice and makes no representations as to the tax treatment of assets or the investment returns thereon, either in general or with reference to specific client's circumstances and needs. Recipients should obtain independent legal and tax advice on the implications of the products and services in the respective jurisdiction before investing. Certain services and products are subject to legal provisions and cannot be offered world-wide on an unrestricted basis. In particular, this document is not intended for distribution in jurisdictions where its distribution by Clarus Capital would be restricted. Clarus Capital specifically prohibits the redistribution of this document in whole or in part without the written permission of Clarus Capital and Clarus Capital accepts no liability whatsoever for the actions of third parties in this respect. Neither Clarus Capital nor any of its partners, employees or finders accepts any liability for any loss or damage arising out of the use of all or any part of this document. Source of all information is Clarus Capital unless otherwise stated. Clarus Capital makes no representation or warranty relating to any information herein which is derived from independent sources. Please consult your client advisor if you have any questions.